ABOUT US / INTRODUCTION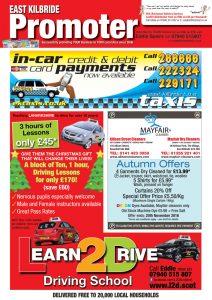 The Promoter has been created by Windmill Graphic Design to give businesses within their desired catchment area the best opportunity to 'promote' themselves to local residents.
Think about how much you usually spend on getting your leaflets designed, printed and distributed? The Promoter does exactly the same job at a fraction of the cost!
Where else can you advertise your business to so many people for so little outlay?
We will create a high quality advertisement from your specified details including, if necessary, photography or even use royalty-free stock images from our extensive library. We will then proof to you for any alterations and approval prior to publication.
We understand that Full Colour gives the best chance to get you noticed and that is why we have based all prices in this way.
The Promoter is printed as a 4 page A4 sized advertiser onto high quality gloss paper and has been designed to accept a wide variety of shapes and sizes for your advertisement.
This website is here to reassure our customers that we are professional in our approach and give piece of mind to any potential advertisers not sure how reputable we are. Our Latest News blog lets our Franchisees communicate with you and answer questions and we'll post any recommendations we get through our Testimonials page
By offering Franchises, and in order to grow, we are seeking people to run their own Promoters in their own areas. For a minimal fee we will set you up and running in business for yourself in no time. With Promoter Franchises already underway the benefits can be huge to everyone. Our success is your success!